March 2012, Edition
Dear Education Partner: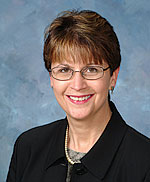 Earlier this month, we held one of our favorite events of the year, our annual Teacher of the Year Breakfast. The event provided the opportunity for our board members, administrators and business partners to say thank you to the dedicated men and women who teach our children.
We honored 72 Aldine teachers who were selected by their peers as Campus Teacher of the Year for 2011-12.
The annual celebration was held at the Hyatt North Houston Hotel (formerly the Crowne Plaza Hotel). During the breakfast, our district-wide winners were announced. I am proud to announce that Jill Charrier of Hinojosa EC/Pre-K Center was Aldine's Elementary/Intermediate Teacher of the Year, while Karen Barnes of Lewis Middle School was named the district's Secondary Teacher of the Year.
Jill has taught our youngest students for the last eight years and has spent her entire teaching career in Aldine. She believes teaching is her calling and that it is her duty to inspire and believe in her students. She also expects much from her youngsters.
"I have high expectations for all my students, and I believe that is one of the most important factors of a successful teacher," Jill said, explaining her teaching philosophy. "That means giving students multiple opportunities to grow, setting goals, and working with parents to ensure my students' success."
Karen has 22 years of experience as a language arts teacher. She spent the first 10 years of her career in HISD and has spent the last 12 years with Aldine.
She also believes she was called to teach and believes in not only imparting knowledge to her students, but also serving as an advocate for them when needed.
"Teaching is a calling," she wrote in her teaching philosophy. "Outstanding teachers heed that call and always do what is best for the students. They (teachers) are advocates for children first and foremost. My duty is to teach them how to think and to motivate them to learn. I help them believe in themselves."
The four other finalists were Yolanda Martinez of Garcia-Leza EC/Pre-K Center, Christy Rangel of Sammons Elementary School, Tanya Anderson of Grantham Academy and Marilyn Doyle of MacArthur Senior High School.
I also want to thank our business partners who contributed prizes to our winners, finalists and all of our Campus Teachers of the Year. Those businesses were United Airlines, InvesTex Credit Union, the Houston Astros, the Houston Rockets, the DoubleTree Hotel Houston Intercontinental, Greenspoint Mall, Bonfire Wings and Houston Northwest Hospital.
Congratulations to all of the campus recipients, finalists and winners and thank you for the vital role you play on a daily basis in our classrooms. Thank you also to our business partners who generously sponsored the event.
Next week, our students, and their peers across the state, will get their first official taste of Texas' new statewide-standardized tests. The State of Texas Assessments of Academic Readiness (STAAR) replaces TAKS (Texas Assessment of Knowledge and Skills). STAAR will be a more rigorous test than TAKS and will be timed. First-time ninth grade students will be required to take the End-of-Course (EOC) English test that will include a reading test one day and a writing test on another. Fourth-grade and seventh-grade students will take a two-day writing test, while fifth- and eighth-grade students take reading and math tests, and seventh-graders who are receiving above grade level instruction in math will also take the eighth-grade math test. Additional STAAR tests will be administered in April and May.
These are uncharted waters for Aldine and public schools across the state. I will keep you informed when the Texas Education Agency announces more information on STAAR.
Sincerely,
Wanda Bamberg Ed.D.
Superintendent of Schools
District Highlights
• Nimitz Senior High student Taylor Palermo won grand champion broiler honors at the Houston Livestock Show and Rodeo. Additionally, Nimitz High's Tour Guide Team placed third during the Rodeo competition. Nimitz students Micheala Tennyson, Eric Palacios and Rokia Ross each caught a calf during the Rodeo's calf scramble.
• Six Aldine ISD art students had their work displayed during the Houston Livestock Show and Rodeo. Their works were displayed at the Hayloft Gallery at Reliant Center. Additionally, Nimitz Senior High student Shandey Ketchey had her artwork selected for the Rodeo's School Art Auction.
• Dr. Keith Clark, the retired assistant superintendent of finance, was awarded the Texas Association of School Business Officials' (TASBO) Commitment to Excellence Award during the group's state conference, held recently in Houston.
• Nimitz Senior High graduate Brittney Griner was named the Big 12's Player of the Year and Defensive Player of the Year. It marked the second straight year Griner has been named the top player in the Big 12.
• Magrill Elementary School recently took the lead in student health by becoming a Fuel Up to Play 60 School. Fuel Up to Play 60 is a collaboration between the National Dairy Council (NDC) and the National Football League (NFL) to encourage schools to support school wellness initiatives, good nutrition and physical activity.
• Nine Aldine ISD schools received the Healthier U.S. School Challenge Award from the U.S. Department of Agriculture. The award was established to recognize schools that create and maintain healthier school environments by providing nutrition education, nutritious food and beverage choices, physical education and opportunities for physical activity. The nine schools honored were: Bussey Elementary School, Dunn Elementary School, Gray Elementary School, Johnson Elementary School, Jones Elementary School, Kujawa Elementary School, Marcella Intermediate School, Parker Intermediate School, and Wilson Intermediate School.
• Aldine ISD and MacArthur Senior High School hosted the 2012 Texas Large Schools State Academic Decathlon, Feb. 23-26.
• MacArthur Senior High School swimmer Kaulen Applin qualified for the Class 5A State Swim Meet in the 50-meter freestyle.
• James Showers was named Davis Senior High School's first-ever head football coach and athletic coordinator. Showers comes to Aldine ISD from Shoemaker High School in Killeen ISD. Showers has served as Shoemaker's defensive coordinator since 2000.
• Individuals interested in playing in the M.B. "Sonny" Donaldson Scholarship Golf Tournament should contact Pete Stewart at (281) 985-7571 or David Brenek at (281) 985-6580. Tournament information can also be found on the district's website under the golf icon. This year's tournament will be played on Friday, June 15 at Cypresswood Golf Club. The tournament helps provide scholarships that are presented by the Aldine Council of PTAs.
The Nation's Best!
Earlier this month, Aldine ISD Police Officer Charles Boening was patrolling the Aldine High School area when he observed a number of Harris County Sheriff's Deputies and wreckers in the parking lot at Smith Stadium. A man whose vehicle had been damaged in an accident approached Officer Boening.
The individual was from Tyler and was waiting on a relative to come pick him up. He was concerned that he would not be allowed to wait for his relative in the parking lot at Smith, but Officer Boening assured him he could wait there as long as he needed. Officer Boening also told the stranded motorist that he would check in on him during his patrol, which he did.
Even after the motorist was picked up by his relative, Officer Boening continued checking on the man's vehicle until it was safely removed from the parking lot. Officer Boening is just one more example of an Aldine employee who goes above and beyond the call of duty to help others and is one of the Nation's Best!
Upcoming Events
Wednesday, April 4
ACC meeting, M.O. Campbell Educational Center, 9:30 a.m.
Friday, April 6
Good Friday Holiday (district offices /schools closed)
Tuesday, April 10
Magnet Strings Festival, M.O. Campbell Educational Center Arena, 7 p.m.
Saturday, April 14
Children's Instrumental Music Festival, M.O. Campbell Educational Center, 8:30 a.m.
Monday, April 16
Board Study Session, Board Room, 6:30 p.m.
Tuesday, April 17
Board Meeting, Board Room, 7 p.m.
Thursday, April 19
Leadership Aldine, Board Room, 8 a.m.
Saturday, April 21
Children's Choral Music Festival, M.O. Campbell Educational Center, 8 a.m.
Saturday, April 21
PTA Community and Vendor Fair, Aldine Senior High School, 10 a.m.
Tuesday, April 24
Business Advisory Luncheon, M.O. Campbell Educational Center, 11:30 a.m.