April 2012, Edition
Dear Education Partner: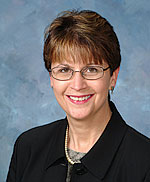 We are currently in the middle of our busy testing season as our students take the state's new assessment, STAAR (State of Texas Assessments of Academic Readiness) for grades 3-8. Eleventh graders will take exit level TAKS (Texas Assessment of Knowledge and Skills) next week. STAAR EOC (end of course) tests will be administered during the week of May 7-11 for first-time ninth-grade students and eligible eighth-grade students.
In addition to testing, our students and staff are preparing for annual year-end events, which includes our annual Employee Awards Banquet, slated for May 17.
The highlight of the year comes on the first weekend in June when thousands of Aldine ISD seniors will walk across the stage at the M.O. Campbell Educational Center to receive their high school diplomas. It's a pleasure to watch the students and their families as each senior graduates.
We hope our graduates will continue their academic careers at a college or university. Over the last few years, a main focus has been to prepare our students for college. We begin our focus on college with our youngest students at the early childhood/pre-kindergarten level, and continue that focus through all grade levels with work on college awareness and readiness.
We recently received information from the National Student Clearinghouse's Student Tracker for High Schools that indicates approximately 50% of our students are attending college after high school and 80% of our students who enter college as freshmen return as college sophomores. These numbers have improved in the last few years, but clearly this continues to be a challenge for the district. Most of our students begin at Lone Star College North Harris, but many are attending four-year institutions across the state and even across the country. We will continue to work diligently to encourage a college-going culture with our students.
The state is holding primary elections on May 29th, and it is important that we exercise our civic duty. The last day to register to vote for the May 29th primary is April 30th. You can access information about voting at our website (www.aldine.k12.tx.us).
Thank you for your continued support.
Sincerely,
Wanda Bamberg Ed.D.
Superintendent of Schools
District Highlights
• Six Aldine ISD elementary choir students have been selected to perform in the Texas Choral Directors Association's (TCDA) Elementary State Honor Choir this summer in San Antonio. The six are: Kealana Wolfe of Jones Elementary School, Tyler Benitez and Elaine Garcia of Stephens Elementary School, Madalynn Ramirez of Sammons Elementary School, Jazmin Luna of Parker Intermediate School and Karen Hernandez of Wilson Intermediate School.
• Bethune Academy science teacher Shaina Glass was selected to attend the 2012 Phil Mickelson ExxonMobil Teachers Academy at Liberty Science Center in Jersey City, N.J., July 22-27.
• Kujawa Elementary School art student Chelsea Nguyen was named the Power of Art People's Choice Award winner by the Houston Livestock Show and Rodeo and their business partner Reliant Energy.
• Eisenhower Senior High and Aldine Senior High School's UIL (University Interscholastic League) spelling teams both advanced to regional competition.
• Carver High School's drama troupe received two Tommy Tune Award nominations. They received nominations in the Best Ensemble/Chorus category and the Best Choreography category.
• Eisenhower Senior High School tennis player Hitomi Kimura became only the second tennis player in the history of the school to advance to the Region III Tennis Tournament when she finished second in singles at the District 18-5A Tennis Tournament.
• The MacArthur Senior High School girls' golf team and the Nimitz Senior High boys' golf team both earned district titles at the District 18-5A Golf Tournament. Both teams, along with Eisenhower Senior High School boys' team advanced to the Region III Golf Tournament. Eisenhower's Brandon Reed won medalist honors in the boy's division, while fellow Eisenhower golfer Mariesha Keys took medalist honors in the girls' division. Marlon Chapman of Nimitz was the runner-up boys' medalist, while teammate Luis Padilla was the third-place medalist. Tracey Taylor of Eisenhower High was the runner-up medalist in the girls' division.
• Three Aldine ISD soccer teams earned playoff berths this spring. The Aldine Senior High Lady Mustangs finished second in District 18-5A play, while the MacArthur Senior High Lady Generals finished third in league play. The Aldine Senior High Mustangs finished fourth in District 18-5A play and advanced to the playoffs.
The Nation's Best!
Hoffman Middle School teacher Debra Elrod is definitely one of the Nation's Best! She is a shining example of an individual who unselfishly gives of her time to the Hoffman community and to Hoffman students. Thanks to her efforts and devotion to her students, Hoffman has been represented at the district Pentathlon contests over the last seven years.
She has also helped the school's PTA by working the phones seeking donations for the group and has volunteered her time working the association's spaghetti dinners. Each Christmas, Debra works tirelessly to remind Hoffman students and staff to remember those who are less fortunate in the community. She has worked with the local fire department and police department to provide blankets and toys for those in need in the Hoffman community. Thanks to her efforts this year, the Houston Police Department donated school supplies to Hoffman as their way of saying thanks for the school's continued support of the community. Debra will retire at the end of the school year after devoting 38 years to Aldine students. We know Debra will be greatly missed by the students, staff and the Hoffman community and we thank her for being one of the Nation's Best!
Upcoming Events
Saturday, April 21
Children's Choral Music Festival, M.O. Campbell Educational Center, 8 a.m.
Tuesday, April 24
Business Advisory Luncheon, M.O. Campbell Educational Center, 11:30 a.m.
Saturday, May 5
PTA Community and Vendor Fair, Aldine Senior High School, 10 a.m.
Thursday, May 10
VISA (Volunteers in the Schools of Aldine) Reception, M.O. Campbell Educational Center, 4 p.m.
Monday, May 14
Extra Milers Reception, M.O. Campbell Educational Center, 3 p.m.
Monday, May 14
Board Study Session, Board Room, 6:30 p.m.
Tuesday, May 15
Board Meeting, Board Room, 7 p.m.