May 2012, Edition
Dear Education Partner: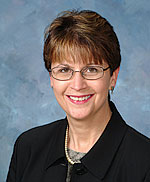 The 2011-2012 year is almost over. It has been a stressful year but a productive one and our staff members have worked diligently to help our students be successful.
The testing season ends today, and I want to thank our teachers and campus administrators for their hard work to prepare our children for the state's new assessment, STAAR (State of Texas Assessments of Academic Readiness). We should have our End of Course results sometime this summer, but the state will not set the STAAR passing standards until January of 2013. We will keep you informed when the state releases new information on STAAR.
We are enjoying many celebrations at schools throughout the district, as yearend awards ceremonies and banquets are held to recognize students for their academic, athletic, and performing arts accomplishments. At the May Board meeting, more than 50 students were recognized for their accomplishments in visual arts, career and technical education and music.
We held two district receptions for groups of special people who play a vital role in the district.
We honored our VISA (Volunteers in the Schools of Aldine) volunteers with a reception at the M.O. Campbell Educational Center. More than 300 VISA volunteers attended the event as Trustees, our administrative team and principals said thank you for giving their time, energy, expertise, and in some cases resources, to help students. Fifty VISA volunteers have accumulated more than 1,000 hours over the years. Of these high achievers, five volunteers – Juanita Honeycutt, Katherine Mason, Cheryl Knighton, Tommy Newman and DeAnn Crumbley – have accumulated more than 10,000 hours. Each received a framed certificate presented by Board Vice-President Merlin Griggs and myself.
We can't thank our VISA volunteers enough. They are a vital part of our Aldine family and do so much for the campuses where they serve.
We also held our Extra Milers reception to thank school personnel who go above and beyond the call of duty. Cabinet members presented each one with a certificate and key chain to thank them for taking on extra duties at their respective campuses. Attendees also enjoyed cookies, ice cream and fruit while they chatted with other extra milers and participated in drawings for door prizes. The volunteer spirit is alive and well in Aldine ISD!
Our annual Employee Awards Banquet was May 17th at the Hilton Houston North Hotel. We honored close to 100 employees who are retiring and those who have reached milestones of 20, 25, 30, 35, 40 and 45 years of service. It is always a pleasure to shine the spotlight on some of the finest educators and education support employees in the nation.
Perhaps the biggest highlight of the year comes the first weekend in June when we will hold graduation ceremonies culminating many years of hard work by our students. I want to congratulate all of our graduates, their parents and families for reaching this important milestone. I join our Board of Trustees, along with the entire school district, in wishing them great success as they move on in their academic endeavors, military service or as they enter the work force. A complete list of our graduation ceremonies, along with times and dates, can be found in the Calendar of Events.
As the school year winds down, the election season is kicking into high gear. Early voting is currently underway now through May 25 for the May 29 state primary elections. There are 37 early voting locations throughout Harris County.
To find polling locations nearest you, visit www.harrisvotes.org or call the County Clerk's office at 713 755-6965. Registered voters may vote early at any of the 37 polling locations. Polls are open 8 a.m.-4:30 p.m. Monday-Friday; 7 a.m. to 7 p.m. on Saturdays; and 1-6 p.m. on Sundays. Polls will be open 7 a.m. to 7 p.m. on May 29.
Democrat and Republican voters will go to the polls to vote for Presidential candidates, U.S. Senate candidates, Congressional candidates, Texas Legislature candidates, Railroad Commissioner, state and local judicial seats, Harris County District Attorney, constable positions and Harris County Sheriff.
There are also a number of referendums/propositions on both Democrat and Republican ballots. Proposition 1 on the Republican ballot addresses school choice. It reads as follows: "The state should fund education by allowing dollars to follow the child instead of the bureaucracy, through a program which allows parents the freedom to choose their child's school, public or private, while also saving significant taxpayer dollars." This proposition could take additional dollars away from the state's underfunded public schools.
I hope you will study all of the propositions so you can make an informed choice when voting.
Please don't forget about the M.B. "Sonny" Donaldson Golf Tournament, slated for Friday, June 15 at Cypresswood Golf Course. The tournament benefits the Aldine Council of PTAs and is a fun event. If you would like to sign up to play, contact Pete Stewart at 281 985-7190, or you can find entry form information on the district web site.
Thank you for your support during the 2011-12 school year. We are blessed to have business and community partners who take such a vested interest in our school district, and we truly appreciate all of your input and support during the 2011-12 school year.
Sincerely,
Wanda Bamberg Ed.D.
Superintendent of Schools
District Highlights
• Five Aldine ISD high schools were named in the U.S. News and World Report's Best High School rankings. MacArthur, Carver, and Aldine received silver ratings and Eisenhower and Nimitz received bronze ratings.
• Angelica Richardson, a senior at Victory Early College High School, was selected as one of 1,000 Gates Millennium Scholars (GMS) for the GMS class of 2012. She is the first-ever student from Victory Early College High School to receive this prestigious scholarship. More than 24,000 students from across the country applied for the scholarship. Funds will be made available to Angelica to attend any accredited college or university of her choosing in the United States.
• Vines EC/Pre-K Center was named the Building of the Year by the Buildings and Properties Department, while Escamilla Intermediate School was named the Yard of the Year by that same department. The announcement was made during the May 15 Board of Trustees meeting.
• Everette Taylor, principal of Ermel Elementary School, was named the district's Elementary/Intermediate Principal of the Year, while Walter Stewart, principal of Aldine Ninth Grade School, was named the district's Secondary Principal of the Year. The two were selected by their fellow principals in the district.
• Nimitz High's DreVian Young finished second in the 400-meter dash at the Class 5A State Track and Field Meet. The school's 1,600-meter relay team also qualified for state and finished eighth. The relay team consisted of Young, Stephen Lackey, Desmond Hadnot and Lonnie Strambler.
• Aldine ISD was well represented in both the baseball and softball playoffs this spring as three baseball teams and three softball teams qualified for post-season play. Earning playoff berths in baseball were MacArthur High (co-champs of District 18-5A), Eisenhower High and Nimitz High. Earning playoff berths in softball were MacArthur High (District 18-5A champions), Nimitz High and Aldine High.
The Nation's Best!
I want to commend a group of Aldine employees who performed courageously, compassionately and professionally during a very difficult situation earlier this month. During the MacArthur High-Cinco Ranch softball playoff game on May 4, first base umpire Richard Searce collapsed at first base at approximately 7:30 p.m. MacArthur trainer Jennifer Chandler, a firefighter who was at the games and both teams' coaches immediately responded. 911 was called and CPR was started on Mr. Searce. The AED (located at the softball field) was brought to the scene within two minutes per Ms. Chandler's request. An EMT unit arrived within five minutes and took over care of Mr. Searce. He was transported by ambulance to Memorial Hermann Northeast Hospital and was accompanied by MacArthur High head football coach Bernie Mulvaney. Coach Mulvaney remained at the hospital until Mr. Searce's wife and family arrived. MacArthur softball coach James Grotenhuis and his daughter Miranda, who is a member of the team, also went to the hospital to offer their support and comfort for the Searce family.
Unfortunately, Mr. Searce passed away. Sandra Mader, AISD's director of athletic services, remained at the field and updated Debbie Decker, Katy ISD's executive director of athletics, on what was happening. She also notified UIL about the situation and made plans to re-schedule the game for the following afternoon.
Sandra's calming influence played a key role in dealing with a very difficult situation for both teams and those in attendance. Debbie sent me a very moving letter thanking AISD's employees for their exemplary actions during a very trying time. Sandra also organized a unity circle on Saturday where a moment of silence took place before the game. Throughout the course of the afternoon, Sandra stayed busy as the stadium supervisor, but constantly stopped to check on the umpires and both teams. Debbie was so appreciative of all of our employees who helped her team and coaches get through the tragic weekend.
Mr. Searce was a long-time Katy ISD employee and was well respected as an umpire. Debbie told me how much she appreciated our employees for going above and beyond the call of duty to provide support. Other AISD employees who stepped forward to assist were Mark Hayes, administrative assistant of special events, MacArthur trainer Coby Harris, MacArthur volleyball coach Linda Eastland, as well as principal Nancy Blackwell and assistant principal Marguerita Guerra.
Upcoming Events
Monday, May 28
Memorial Day Holiday
(district schools and offices closed)
Graduation Schedule
Thursday, May 31
Lane School graduation, W.T. Hall
Center for Education, 5:30 p.m.
Friday, June 1
Victory Early College High School
graduation, M.O. Campbell Educational
Center, 6 p.m.
Friday, June 1
MacArthur Senior High School
graduation, M.O. Campbell Educational
Center, 7:30 p.m.
Saturday, June 2
Nimitz Senior High School graduation,
M.O. Campbell Educational Center, 8 a.m.
Saturday, June 2
Carver High School graduation, M.O.
Campbell Educational Center, 10:30 a.m.
Saturday, June 2
Aldine Senior High School graduation,
M.O. Campbell Educational Center, 1 p.m.
Saturday, June 2
Hall Center for Education graduation,
M.O. Campbell Educational Center,
3:30 p.m.
Saturday, June 2
Eisenhower Senior High School
graduation, M.O. Campbell Educational
Center, 5:30 p.m.
Friday, June 1
Last Day of Instruction
Monday, June 4
Business Partners Appreciation
Luncheon, W.T. Hall Center for
Education, 11:30 a.m.
Monday, June 11
Board Study Session,
Board Room, 6:30 p.m.
Tuesday, June 12
Board Meeting, Board Room, 7 p.m.