July 2013, Edition
Dear Education Partner: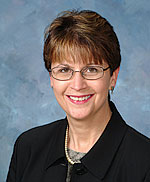 The Board of Trustees welcomed back Marine Jones to the Board during its July meeting. Mrs. Jones has returned to the Board on a temporary basis after announcing her retirement in January.
She graciously agreed to again serve with her fellow Board members as Trustees search for her replacement. The Board asked Mrs. Jones to return during a very critical time as it considers the budget, tax rate and other challenging decisions as we approach the 2013-14 school year.
Texas law states that a Trustee who resigns remains a Trustee until the Board names a replacement. Once Mrs. Jones' replacement is named, that individual will have to run for her Position 1 seat during a special election on Nov. 5 which will be held in conjunction with this year's general election. If elected, that individual would then run again for the Position 1 seat in 2015.
We appreciate Mrs. Jones taking time away from her well-deserved retirement to temporarily resume her Board duties.
During the week of July 29-August 1 we will hold our annual administrative conference where district administrators and principals will gather for training and an overview of the changes and challenges for 2013-14.
On August 1, we will end the administrative conference with our annual APPLE (Aldine Plans for Performance and Learning Excellence) Celebration. We will gather for lunch and celebrate our successes from the 2012-13 school year.
The 2013-14 school year begins on Monday, August 26, which is just six weeks away. We are spending the summer preparing for the new school year.
I am looking forward to the coming year and to working with you as business partners and stakeholders as we strive, together, to Produce the Nation's Best!
Sincerely,
Wanda Bamberg Ed.D.
Superintendent of Schools
District Highlights
• Kathy Flores has been selected as one of five finalists for Region 4 Elementary/Intermediate Teacher of the Year. Kathy was named the district's Elementary/Intermediate Teacher of the Year during our annual Teacher of the Year Breakfast in March. The Region 4 winner will be announced at the Region 4 Teacher of the Year Dinner and Awards Ceremony on Aug. 7 at the Westin Galleria. The Region 4 winner will then compete for Texas Elementary/Intermediate Teacher of the Year honors.
• Nimitz High School's senior group documentary team placed second in their category at National History Day and returned home with a silver medal. The group consisted of Kevin Connally, Bradley Ofoegbu, Angelica Reyes and Thalia Duran. Their documentary was titled, "When Faith Turns Fatal." Fellow Nimitz student Johana Mata placed fourth in the historical paper category, while Aric Barnes placed 10th in the individual documentary category. The senior group performance team consisting of Todd Houston, Anibal Vergara, Jalen Jefferson, Brent Vela and Heather Tucker placed 10th. National History day was held June 9-13 at the University of Maryland in College Park, MD.
• A number of Aldine ISD elementary students took the opportunity to perform at the Hobby Center as part of the Harris County Department of Education's Cooperative for After-School Enrichment program. Students worked with local artists at their schools this summer and showed off their skills in hip-hop, jazz dancing, puppetry and drumming at the Hobby Center.
• During the June Board meeting, Trustees named Kerry Bamburg as the new head football coach at Eisenhower High School and Andy Garza as the new head football coach at MacArthur High School. This will be both men's first head coaching jobs.
• MacArthur High School senior Darius Charbonneau was named to the second team of the Houston Chronicle's All Greater Houston baseball team as a utility player. Darius' teammate Rogelio DeLeon was named to the Class 5A All-State Academic Team.
• Aldine ISD was well represented in two football all-star games this summer. Eisenhower High seniors Rayshaun Givins and Jerricho Worrell played in the Bayou Bowl in Baytown in June. A number of AISD seniors participated in the Blue Chip All-Star game, played at Thorne Stadium. The North team was coached by Aldine High's Lionel Crawford. Aldine High quarterback Derrick Brown was named the game's Most Valuable Player, while Eisenhower High's Seth Glass was named the Defensive MVP. Other Aldine ISD players who participated in the game were: Jacorey Washington and Yessen Carrillo of Aldine High; Eric Alvis, Edward Norman, Aaron Petry, Jacob Anderson, Joseph Anderson, Marquis Turner, Geonte Sanders and Dennis Demerson of Eisenhower High School; Shaquille Rain and Nick Medrano of MacArthur High; and Jordan Thomas, Desmond Hadnot and Edward Ross of Nimitz High School.
The Nation's Best!
We witness random acts of kindness every day: a neighbor helping a neighbor, a stranger coming to the aid of a stranded motorist or employees helping other employees in their time of need, which was the case toward the end of the school year at Nimitz High School. Nimitz teacher Jamie Beavers was told by fellow employee Alma Hardy that she had a flat tire. As Jamie was unloading her trunk to grab her jack on a very hot May afternoon, three Good Samaritans came to her aid. Fellow staff members Randy Gilmer, John Zhang and Chad Blees rushed to her assistance and fixed her flat. Jamie was most grateful that she did not have to call her father to come out on such a hot day, and he was thankful that his "baby" got home safely thanks to the three kind gentlemen. Randy, John and Chad are definitely the Nation's Best!
Upcoming Events
Monday, Aug. 19
Board Study Session, Board Room, 6:30 p.m.
Tuesday, Aug. 20
Board Meeting, Board Room, 7 p.m.
Monday, Aug. 26
First Day of Instruction
Monday, Sept. 2
Labor Day Holiday, District Schools/Offices Closed
Monday, Sept. 16
Board Study Session, Board Room, 6:30 p.m.
Tuesday, Sept. 17
Board Meeting, Board Room, 7 p.m.