December 2013, Edition
Dear Education Partner: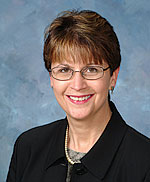 The Board of Trustees reorganized during its Dec. 17 Board meeting. The nominating committee, chaired by Dr. Viola M. Garcia, named Steve Mead president, Dr. Garcia vice-president, Dr. Alton Smith secretary and Rose Avalos assistant secretary. Trustees Rick Ogden, Patricia Ann Bourgeois and Merlin Griggs will serve as members.
Mr. Griggs served as president for the last year and I, along with his fellow board members, want to thank him for his leadership. This will be Mr. Mead's second time to serve as Board president and we look forward to his leadership in the coming year.
Ben Wilson, who has served as assistant superintendent of community and governmental relations since 2000, is retiring in January. Ben has been a valuable member of the cabinet and has done an excellent job of forging business and community partnerships over the last 13 years. He has provided me with sound counsel when dealing with a number of issues and his wisdom and calm demeanor will be missed.
We wish him well as he embarks on a new chapter of his life and we can't thank him enough for his service and dedication to the Board, our administrative team and the students and staff of the district.
Jason Spencer was named Ben's successor and he has been with us since November. Jason, a Nimitz High graduate, comes to us from Houston ISD where he served as general manager for communications and media relations. Prior to joining HISD, Jason was an education writer and editor at the Houston Chronicle.
Jason brings a wealth of media knowledge to his new position and we are happy to have him join our team.
On December 13, the Aldine Education Foundation (AEF) "Surprize Grant Posse" fanned out across the district and delivered nine grants to teachers at eight schools in the district. The grants totaled $31,755, an increase of more than $25,000 from the 2012 total. AEF was able to award four more grants than it did last year. The grants are awarded to Aldine ISD teachers to implement innovative teaching programs in their respective classrooms. The AEF Board was thrilled to be able to increase the number and monetary amount to our deserving teachers and we hope to see those numbers grow in the future.
During the holidays, the M.O. Campbell Center will be buzzing with activity as the inaugural AISD Holiday Challenge is played Dec. 27-28. The Challenge will benefit AEF and will attract teams from the Houston area, the Dallas-Fort Worth area and Louisiana. Games will begin at 9 a.m. and will run throughout the day and evening. Tickets are $10 and can be purchased at the door or through the Aldine ISD athletic department. For ticket information, contact Richard Delgado at 281-985-6100.
I wish all of you a Merry Christmas and a Happy New Year. This is a wonderful time of year when we get the chance to spend time with family and friends, take a look back on 2013 and look forward to 2014. We know we will continue to face challenges in the coming year, but I hope you take the time to enjoy this special season. If you are traveling, please travel safely. Our students and staff are looking forward to the break, and hopefully will return refreshed and energized on Jan. 6.
Sincerely,
Wanda Bamberg Ed.D.
Superintendent of Schools
District Highlights
• Twenty-one Carver High School theater arts students recently competed at the Texas State Thespian Festival and all advanced to nationals in a number of individual and group events. Carver's Nyles Washington received a $1,000 Thespian Scholarship from the Texas Thespians and was elected to serve on the Student State Board.
• Former Orange Grove principal, Betty Morrow was awarded the Strategic Partners Award for Education by the East Aldine District (EAD). She was honored as EAD's 2013-14 leader in education for making a difference in the community during her 30 years at the school.
• AISD Trustee Rose Avalos joined 32 other school board members from across Texas as part of the Leadership TASB (Texas Association of School Boards) Class of 2014. Ms. Avalos and her fellow class members are participating in a year-long education leadership study program.
• Nimitz High School student Thalia Duran was honored by the State Board of Education (SBOE) for being part of the Group Documentary team that placed second at the National History Day competition, held last June at the University of Maryland. Thalia's fellow classmates graduated from Nimitz last June and were unable to attend the SBOE meeting.
• Artist Brenden O'Connell, who is known as the Warhol of Walmart, visited two Aldine ISD schools (Kujawa Elementary and Rayford Road Intermediate) to develop a promotional video to recruit students for the EveryArtistLive! Event. Elementary students across the district participated in the national event, but students from Kujawa and Rayford Road were featured in the promotional video.
• Twelve Aldine ISD choir and band students have qualified for the TMEA (Texas Music Educators Association) Area Round Auditions in January with a chance to place in the Texas All-State ensembles. The 12 students are: Rolando Benitez, Walter Brown, Christopher Troung and Mariah Banks of Davis High School, Tina Tran, Alejandro Villa, Elvis Moreno and Juan Rojas of Aldine High School, DeVionne Jones of Eisenhower High School, Simon Morales and Emilio Salinas of MacArthur High School, and Lazaro Rojas of Nimitz High School. We wish them well at state!
The Nation's Best!
Each year at this time, Aldine students and staff members reach out to help those in need during the holiday season. Whether it's donating canned goods for area church pantries, providing Christmas gifts for children, or donating clothes to those in need, our students and staff can be counted on to help their fellow man. Our support facilities also do their part to help during this time of year. Employees at the Central Office adopted 21 children at Mission Greenspoint and purchased toys, so they would have a Merry Christmas. The Human Resources Department collected toys for Aldine CTC, while employees at the Resource Center adopted a number of families and provided them with food, presents and clothes. The spirit of giving is alive and well in Aldine ISD and I am proud to be associated with a school district that does so much for others. Our students and staff are definitely the Nation's Best!
Upcoming Events
Monday, Dec. 23-Friday, Jan. 3
Mid-Winter Break (district schools and offices closed)
Monday, Jan. 13
Board Study Session, Board Room, 6:30 p.m.
Tuesday, Jan. 14
Board Meeting, Board Room, 7 p.m.
Monday, Jan. 20
Martin Luther King Jr. Holiday, (district schools and offices closed)
Friday, Jan. 24
State of the District Breakfast, Sheraton North Houston, 7:30 a.m.