March 2014, Edition
Dear Education Partner: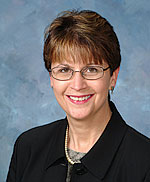 On March 7, we held our annual Teacher of the Year Breakfast at the Hyatt North Houston Hotel. The event provides an opportunity for our Trustees, administrators and business partners to say thank you to the dedicated men and women who teach our children.
We honored 75 Aldine teachers selected by their peers as Campus Teachers of the Year for the 2013-14 school year.
I am pleased to announce that Tina Perry of Lane School was named AISD's Elementary/Intermediate Teacher of the Year, and Dr. Emily Bartley of Aldine High School was named the district's Secondary Teacher of the Year.
Tina, a deaf education teacher, has 24 years of teaching experience and has worked with our special needs children for 21 years.
She believes it is her duty as an educator too not only reach out to her students, but to their parents as well.
"As a teacher, I must empower each of the parents I work with to teach and work with their child and work with their disability in order for the child to be successful in life," she said.
Dr. Bartley, a health teacher, has 22 years of teaching experience and she has spent two years with Aldine ISD.
She believes it is her duty to help her students reach their full potential.
"Each child possess a talent," she said. "It is my desire to help each child discover their gift and appreciate it. I want to nurture it so that it may be shared with the world."
Other finalists were Kimberly Johnson of Calvert Elementary School, Debra Dunham of Stehlik Intermediate School, Roshunda Jones of Carver High School and Dr. Olivia Chapa of Victory Early College High School.
You can click here to watch a video featuring these fantastic educators.
I want to thank the Aldine Education Foundation and our business partners who contributed prizes to our winners. AEF presented the two winners with $5,000 each, and the four finalists each received a $1,000 check. Every Campus Teacher of the Year received $100. United Airlines provided the two winners a pair of round-trip tickets anywhere in the continental United States. Other wonderful prizes were donated by InvesTex Credit Union, Greenspoint Mall, the Double-Tree Houston Intercontinental Hotel, UBI-Comp, the Houston Rockets, the East Aldine District and the Sheraton North Houston Hotel.
Congratulations to all of our campus recipients, finalists and winners. I thank you for the vital roles you play on a daily basis in our classrooms.
We are also excited to announce that during the March 18 Board meeting, our Trustees approved raising starting teacher pay to $50,000 beginning with the 2014-15 school year. The move made Aldine one of the largest school district in the state to offer new teachers a $50,000 base salary. Other districts may follow suit, but we were the first to do so!
In addition, board-approved salary stipends for AISD teachers in high-demand fields are among the largest in the region – $4,500 for bilingual teachers and $3,000 for secondary math and science teachers.
Our Board recognizes that teachers have the greatest impact on student achievement and to attract the best and brightest, we must offer them a competitive starting salary. We thank the Board for taking this bold move and we believe it will be a useful tool in our recruiting efforts. In June, I'll ask the Board to approve raises for all veteran teachers and other employee groups that will keep us competitive with surrounding school districts.
During the first week of April, our students will begin taking STAAR (State of Texas Assessments of Academic Readiness) tests. Ninth- and 10th-grade students will take the End-of-Course (EOC) English tests that will now be a combined reading and writing assessment with a five-hour time limit. Fourth- and seventh-grade students will take a two-day writing test, while fifth- and eighth-grade students will take reading and math tests. Additional STAAR tests will be administered in late April and May.
The spring is always a busy time in education. I thank you for your continued support of our district.
Sincerely,
Wanda Bamberg Ed.D.
Superintendent of Schools
District Highlights
• Carver High School's Theater Department received 10 Tommy Tune nominations for their performance of In the Heights.
• Fifty Aldine ISD art students earned Gold Key, Silver Key or Honorable Mention honors in the annual Scholastic Art & Writing Awards, sponsored by the Harris County Department of Education. Gold Key winners were Eleazer Mendoza of Eisenhower High School, Jazzman Washington of Nimitz High School and Miguel Para of Victory Early College High School. The three will have their work advance to the national level of judging in New York City later this spring.
• Thirteen AISD arts students advanced to the VASE (Visual Arts Scholastic Event) state competition after winning at the regional level. The VASE state contest will be held April 4-5 in Bryan.
• The Nimitz High School VEX robotics team advanced to the state championships by qualifying at the VEX Robotics competition. Nimitz competed against 40 other robotics teams.
• The Nimitz High and Davis High boy's basketball teams qualified for the Class 5A playoffs. Nimitz finished third in District 18-5A, while Davis finished in fourth place.
• Eisenhower High School's Shaqueria Debose has been selected to play in the Greater Houston Area Girls Basketball Association (GHAGBA) All-Star game on April 5.
• The Eisenhower High School Eaglettes Dance Team were named grand champions at the Crowd Pleasers South Houston Contest, held recently at Clear Spring High School.
• Calvert Elementary School was selected to host a Fuel Up to Play 60 event because of the success of its alternative breakfast program. Former Houston Texans tight end Owen Daniels attended the event and spoke to the students about the importance of eating a healthy breakfast.
The Nation's Best!
Carver High School is fortunate to have English teacher Reba Kochersperger (or Ms. K as she is known by her students and co-workers!) on its staff. During her tenure at Carver, Ms. K initiated two major programs, Poetry Out Loud and Turnitin.com. Poetry Out Loud is a national recitation contest sponsored by the National Endowment of the Arts. In eight years, Carver has had four state winners advance to Washington, D.C. and produced one national finalist. Her introduction of Turnitin.com has helped Carver students build awareness of plagiarism and helps them learn the correct use of citation and documentation that helps them avoid plagiarism. Access to Turnitin.com has also provided teachers with a tool to grade essays online, helping Carver meets its goal of reducing the number of copies it has to print. For the last four years, Ms. K has coached the school's Speech-Debate team and this year she took on the role as the school's UIL Academic Coordinator to try to build up Carver's UIL academic team. Through her efforts, Carver now has four UIL academic coaches working with students to prepare them for UIL meets during the spring semester. Ms. K has also served as the campus grants coordinator. As the school's dual credit English teacher, Ms. K provides enrichment for her students who are taking college courses at Carver. At least once a year, she escorts 50 students to an evening at the opera, funded by a grant she secured. Ms. K definitely wears many hats at Carver and she has been such a positive influence with so many students over the years. Reba, thank you for all you do. You are definitely one of the Nation's Best!
Upcoming Events
Wednesday, April 9
ACC Meeting, M.O. Campbell Educational Center, 9:30 a.m.
Monday, April 14
Board Study Session, Board Room, 6:30 p.m.
Tuesday, April 15
Board Meeting, Board Room, 7 p.m.
Friday, April 18
Good Friday Holiday, District Schools and Offices Closed
Monday, April 22
Superintendent's Business Advisory Luncheon, M.O. Campbell Educational Center, 11:30 a.m.
Thursday, April 24
Leadership Aldine, Board Room, 8 a.m.