May 2014, Edition
Dear Education Partner: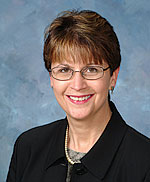 May is a particularly busy time as year-end celebrations, awards ceremonies, concerts and banquets are held throughout the district to recognize students for their academic, athletic and artistic accomplishments. At the May 20 Board meeting, dozens of students were recognized, along with their parents, for their accomplishments in academics, and performing and visual arts.
On May 22, we held our annual VISA (Volunteers in the Schools of Aldine) reception at the M.O. Campbell Educational Center. Our Board members, administrators, and principals took the time to thank nearly 600 volunteers who give of their time at schools across the district. More than 40 VISA volunteers gave more than 1,000 hours this year and they were introduced during the reception. Of these high achievers, five volunteers – Juanita Honeycutt, Gabino Gutierrez, Cheryl Knighton, DeAnn Crumbley and Tommye Newman – accumulated thousands of lifetime hours. The five each received a framed certificate presented by Board President Steve Mead and me. We can't thank our VISA volunteers enough. They are a vital part of our Aldine family and provide such a valuable service at our campuses.
On May 12, we held our annual Extra Milers reception to thank school personnel who go above and beyond the call of duty. Cabinet members served them treats and presented them with certificates thanking them for taking on extra duties at their respective campuses. Our VISA volunteers and Extra Milers prove the team spirit is alive and well in Aldine ISD!
We held our annual Employee Awards Banquet on May 8 at the Houston Hilton North Hotel. We honored more than 100 employees who are retiring and those who have reached milestones of 40, 35, 30, 25 and 20 years of service in Aldine. This event is always one of the highlights of the year and provides us the opportunity to shine the spotlight on some of the finest educators and support employees in the nation.
The Aldine Education Foundation (AEF) held its second annual reception at Davis High School on May 22. Nearly 150 AISD seniors received Aldine Scholarship Fund (ASF) or AEF scholarships. The two non-profits joined forces a year ago to help more AISD students receive financial support for college, provide additional choices for college, and award grants to teachers for innovative classroom instruction.
The Texas Education Agency released STAAR (State of Texas Assessments of Academic Readiness) scores. While we have made gains in some grade levels, we are facing challenges in others. We will spend the summer reviewing the scores and mapping out a plan to address areas where we need to improve.
Three Aldine ISD high schools were named to U.S. News & World Report's Best High School rankings list. The three schools that made the list were Victory Early College High School, Carver High School and Eisenhower High School. Victory Early College earned a Gold Award ranking 28th in Texas and 203rd in the nation. Carver High earned a Silver Award and Eisenhower High earned a Bronze Award. To determine the Best High Schools national rankings, schools were first analyzed at the state level in terms of how well students in each school performed on state assessments, taking into account the test scores of disadvantaged students. The methodology used is based on key principles that great schools must serve all students well, and that they must be able to produce measurable academic outcomes to show the school is successfully educating its student body across a range of performance indicators.
I'm sure you are aware that Children at Risk released revised 2014 school ratings after it discovered a significant error in the calculations that were published in the Houston Chronicle on April 27. To see the revised rankings, please visit www.childrenatrisk.org.
On May 6, more than 750 Aldine ISD student-athletes received free heart health screenings in conjunction with their annual athletic physicals thanks to a grant from the Cody Stephens Go Big or Go Home Foundation. It was the largest heart screening for high school student-athletes in the Houston area. Cody was a student at Crosby High School who was two weeks away from graduating when he unexpectedly passed away due to Sudden Cardiac Arrest. Cody's father Scott attended the event, along with State Rep. Sylvester Turner. Rep. Turner is working on legislation seeking to make ECG screening mandatory for all Texas high school athletes. We want to thank Mr. Stephens for his generous donation and to Rep. Turner for his commitment to this endeavor.
At the May Board meeting, Trustees approved the hiring of a new Aldine ISD police chief, Craig Goralski. Craig brings 32 years of law enforcement experience to Aldine. He spent most of his career with the Houston Police Department, where he moved up the ranks during his time there. He currently serves as assistant chief of METRO and will be joining us soon.
Perhaps the biggest highlight of the year will come the first week in June when thousands of Aldine ISD seniors receive their high school diplomas during graduation ceremonies. I want to congratulate all of our graduates, their parents and families for reaching this important milestone. I join our Board of Trustees in wishing them great success as they move on in their academic endeavors, military service, or as they enter the work force. A complete list of our graduation ceremonies, along with dates and times, can be found in the Calendar of Events below.
Once again, thank you for your support and input during the 2013-14 school year. We are blessed to have business and community partners who take such a vested interest in our school district.
Sincerely,
Wanda Bamberg Ed.D.
Superintendent of Schools
District Highlights
• Aldine ISD Trustee Dr. Viola M. Garcia was elected to the National School Boards Association (NSBA) Board of Directors. Dr. Garcia was elected to a Southern Region position by the organization's Delegate Assembly, which met during NSBA's Annual Conference in New Orleans.
• Three Nimitz High School social studies students have advanced to the National History Day Contest, slated for June 15-19 at the University of Maryland. Brent Vela, Alexis Speer and Eduardo Castaneda all earned a trip to nationals by finishing first or second at the State History Fair. Veal placed first in the Individual Documentary category, while Speer placed first in the Individual Website category and Castaneda placed second in the Individual Exhibit category.
• Carver High School theater department won four Tommy Tune Awards at the 12th Tommy Tune Awards Ceremony, held April 16 at the Hobby Center for the Performing Arts. Carver was nominated in 10 categories and won in the following categories: Best Choreography, Best Orchestra, Best Supporting Actress (Amber Scott, who was also awarded a $1,000 scholarship) and Best Leading Actor (Nyles Washington). Washington will compete at the national level for the Jimmy Award at the National High School Musical Theater Awards in New York City in June.
• The Nimitz High School Renegators finished in second place at the Marine Advance Technology Education (MATE) Texas State competition in April at NASA. The team consisted of Alcmene Gonzalez, Malik Randle, Jarmarius Monroe, Emanuel Sanchez, Victor Rivas, Ke'Andre Brown, Derrick Tchety and Jesus Rangel. The team was under the direction of teacher David Ericson. At the same competition, Aldine High's Christian Guzman received the Outstanding Senior Award.
• Houston Academy celebrated its 10th anniversary this spring. On hand for the event was the school's namesake, Mrs. Jewell Simpson Houston.
• Three Aldine ISD varsity softball teams earned playoff spots. MacArthur High, under the direction of head coach Lechelle Lara, finished first in District 18-5A, while the Nimitz High, under the direction of head coach Bubba Delk, finished in third place. Eisenhower High, under the direction of head coach Anne Gaber, finished fourth in league play.
• Eisenhower High School's Robert Stevenson qualified for a trip to the Class 5A State Track in the high jump by finishing in second place at the Region III Meet. Sixteen female and male track athletes qualified for the regional meet.
• Three Aldine ISD varsity baseball teams earned playoff spots. MacArthur High, under the direction of head coach Ernest Gonzales, finished first in District 18-5A, while Nimitz High, under the direction of head coach Kirk Thompson, finished in second place. Eisenhower High, under the direction of head coach Joshua Culp, finished in third place in league play.
• Plummer Middle School head basketball coach Herb McDaniel was named one of eight Middle Coaches of the Year by the Texas Association of Basketball Coaches (TABC), while Davis High assistant coach Brent Youngblood was named one of eight Assistant Coaches of the Year by the TABC. Both were recognized on May 17 at TABC's annual clinic in San Antonio. The duo were nominated by Aldine ISD Director of Athletics Richard Delgado.
• Former Nimitz High School football players Josh Huff and Marion Grice were recently selected in the 2014 NFL Draft. Huff, a wide receiver from Oregon, was selected in the third round by the Philadelphia Eagles, while Grice, a running back out of Arizona State, was selected by the San Diego Chargers in the sixth round. Three former Eisenhower Eagles were signed as free agents. Kenneth Guiton, who played quarterback at Ohio State, was signed by the Buffalo Bills, while LSU defensive back Craig Loston was signed by the Jacksonville Jaguars and Oklahoma wide receiver Jazz Reynolds was signed by the Tennessee Titans.
The Nation's Best!
Jaunetta Cooper, music therapist at Lane School, is passionate about the powerful role music can play in helping students with severe and profound intellectual disabilities. During her 20 years at Lane, she has learned that with patience and perseverance these exceptional students can learn and grow in their own unique ways. Jaunetta creates a supportive learning environment in which each student can demonstrate his or her awareness and learning by responding, acknowledging, anticipating, exploring and participating in multisensory music therapy activities. These activities are designed to improve communication skills, social skills, motor skills and functional academic skills. Over the last 20 years, Jaunetta has presented at the Southwestern American Music Therapy Association's regional conference and in 2011 she was asked to present at Region 4's Pre-school Summer Institute. She often takes a leadership role in the many special events at Lane, such as the Pennies for Pink charity parade and the school's Black History program. Each May, Jaunetta donates her DJ services at Aldine ISD's Exceptional Elegance Prom. Jaunetta is like so many employees in Aldine who give of their time and talents to better their students' lives. Jaunetta is definitely one of the Nation's Best!
Upcoming Events
Monday, May 26
Memorial Day Holiday, District Schools and Offices Closed
Tuesday, May 27
Business Partners Appreciation Luncheon, Doubletree Hotel, 11:30 a.m.
Thursday, June 5
Lane School Graduation,
Hall Center for Education, 5:30 p.m.
Victory Early College High School Graduation, M.O. Campbell Educational Center Arena, 7 p.m.
Friday, June 6
Last Day of Instruction
Hall Center for Education Graduation, M.O. Campbell Educational Center Arena, 6 p.m.
Nimitz High School Graduation, M.O. Campbell Educational Center Arena, 7:30 p.m.
Saturday, June 7
Eisenhower High School Graduation, M.O. Campbell Educational Center Arena, 8 a.m.
Carver High School Graduation, M.O. Campbell Educational Center Arena, 11 a.m.
Aldine High School Graduation, M.O. Campbell Educational Center Arena, 1:30 p.m.
MacArthur High School Graduation, M.O. Campbell Educational Center Arena, 5 p.m.
Monday, June 9
Board Study Session, Board Room, 6:30 p.m.
Tuesday, June 10
Board Meeting, Board Room, 7 p.m.