February 2015, Edition
Dear Education Partner: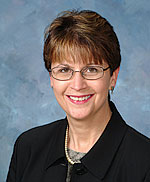 On January 23, we held our annual State of the District Breakfast at the Sheraton North Houston Hotel. Four hundred business partners, community members, parents, students and AISD personnel attended. The breakfast also attracted a number of area political leaders, their staff members and educational leaders who serve our district.
Members of my Student Advisory Group assisted me with the presentation.
U.S. Congressman Gene Green delivered remarks. The Congressman has been a strong proponent of Aldine over the years and we appreciate his support and taking time from his busy schedule to share his time with us at the breakfast.
Davis High School senior Jalyssia Moore opened the program by introducing AISD Board members, elected officials, district stakeholders and other guests who were in attendance.
Nimitz High School senior Ebony Jones shared the district's vision and mission statement with the audience.
Carver High School senior Bruce Westbrook followed up with information about the district's demographics and enrollment figures:
• Enrollment – 69,716 students
DEMOGRAPHICS
• 71% – Hispanic
• 26.6 % – African American
• 1.9% – Anglo
• Economically Disadvantaged – 82.3%
I shared STAAR data (State of Texas Assessments of Academic Readiness) from the 2013-14 school year. We are struggling compared to the rest of the state, but we are working diligently to improve our scores among all student groups.
I also informed the audience that three of our schools (Smith Elementary School, Hall Center for Education and Nimitz High School) are going through reconstitution. Reconstitution is a state-mandated process for schools if they are rated "Improvement Required" for two consecutive years. The district has submitted a plan for reorganization to the Texas Education Agency and as part of the process, we must evaluate all staff and programs. This process is being overseen by the district's School Improvement Officer, a Professional Service Provider and an area superintendent.
MacArthur High School senior Ida Hernandez shared that the class of 2015 will be the first that will be required to meet not only the traditional graduation requirements, but also the additional requirement of passing the state's five End of Course (EOC) assessments. Currently, 390 AISD seniors need to pass at least one test to graduate in June. Ida told the audience that State Senator Kel Seliger has filed Senate Bill 149 to provide emergency and temporary measures to help students who meet all of the regular graduation requirements except for passing all five EOC's with an opportunity to do additional work or projects to demonstrate mastery of an EOC course. We are providing additional tutoring to assist those seniors.
Aldine High School senior Marisol Diaz provided information on extra curricular activities AISD students can choose from, such as performing arts, athletics, history fair, science fair, and academic decathlon. She introduced a video, produced by the district's videographer Alyssa Duty, titled, "The Faces of Aldine." The video featured a number of students on my Advisory Group with one-on-one interviews, footage of them in extra curricular activities and footage during an average school day.
Eisenhower High School senior Marco Medina discussed the Aldine Education Foundation (AEF) and what it accomplished during its second year of existence. During the 2013-14 school year, AEF awarded 149 scholarships from AEF and the Aldine Scholarship Foundation to AISD seniors. Additionally, AEF awarded eight teacher grants in excess of $31,000 last school year. Marco also announced that last year, AISD seniors received 1,140 scholarships worth $17.8 million. The district also received 79 grants totaling $1.5 million.
Three AISD students spoke about their plans after high school. Victory Early College High School junior Oscar Cruz announced he wants to attend Texas A&M University and major in petroleum engineering. Hall Center for Education junior Mariel Moreno plans to attend Lone Star College-North Harris for one year before hopefully attending the University of California to study medicine. Eisenhower High senior Bryttany McClendon-Weary hopes to attend Creighton University, Howard University or New York University to study medicine.
I shared an overview of our district's finances, which are strong and I announced that in August of 2015, we will open a new elementary school, Cypresswood Elementary School, and the Aldine Education Center which will house the COMPASS and GAP centers. We are also opening a new Child Nutrition Services building and training center. Both centers will open in August of 2015.
I discussed our Strategic Master Plan. We are working with DeJONG-RICHTER, LLC, an educational facilities planning firm, and Jacobs Engineering, to facilitate the process. From now until June, we will hold meetings to discuss and technology needs for the future. We will host two community dialogues one on March 19 and the other on either May 6 or 7. Please come to these meetings and encourage your neighbors to come too. We will be sharing information and collecting input about our needs and plans.
I also shared with the audience that we would monitor the 84th Legislative Session currently in session. We are hopeful lawmakers will provide full-day funding for Pre-K, full funding for instructional materials, for recent arrivals, for facilities and return more local control to school districts.
It was a pleasure showing off our students and we were glad they received the opportunity to share their stories with the audience.
Thank you for your continued support as a parent, business partner or community member. It takes all of us to ensure success for our students.
Sincerely,
Wanda Bamberg Ed.D.
Superintendent of Schools
District Highlights
• Aldine ISD has been named one of five state finalists for H-E-B's Excellence in Education Early Childhood Award, highlighting our outstanding Pre-K campuses. By being named a finalist, the district has received a $5,000 grant. H-E-B will announce the winner during an awards ceremony on May 2 at the J.W. Marriott Hotel in Austin. If Aldine ISD wins, it will receive an additional $25,000 from H-E-B.
• Two Aldine ISD band students earned all state honors from the Texas Music Educators Association. Eisenhower High School trombone player DeVionne Jones was named all state, along with MacArthur High School alto sax player Jorge Galvan. DeVionne is under the direction of Eisenhower band director Michael Owen. Jorge is under the direction of MacArthur band director Jose Diaz. Being named TMEA all state is the highest honor a high school musician can attain in the state of Texas.
• Aldine ISD earned a 4-star rating from the State Comptroller's Office after it released its Financial Allocation Study for Texas (FAST). Aldine ISD again received a high rating for cost-effective spending and academic progress. The annual FAST report examines both school finances and student academic progress. It also evaluates the effectiveness of educational spending.
• Aldine ISD art and writing students earned 48 awards at the 2015 Scholastic Art & Writing competition. AISD students were awarded Gold Key, Silver Key and Honorable Mention honors at the competition.
• Aldine ISD FFA (Future Farmers of America) and art students earned $168,820 at the 56th annual Livestock Show and Country Fair, held February 2-6 at the M.O. Campbell Educational Center.
• Sixteen Aldine ISD male and female student-athletes earned college scholarships to various colleges and universities across Texas and the nation during National Signing Day, which was held Feb. 4. The 16 who earned scholarships were: Davis High School football players: Javier Edwards (Texas State), Lexington Thomas (University of Nevada-Las Vegas), Marcus Wilkerson (Midwestern State University), Mark Anderson (Minot State), Donte Doucett (Minot State), Darrell Hubbard (Blinn College), Anthony Malone (Blinn College and the University of New Mexico), and Kenneth Lathan (Blinn College); Eisenhower High School football players Rodney Veasey (Stephen F. Austin State University) and Kevin Nash (Angelo State University) and track athlete Diamond Thomas (Texas A&M Corpus Christi); MacArthur High School football player Titus Chambers (West Texas State University) and Nimitz High School football players Darrell Stewart (Michigan State University), Joshua Powell (University of St. Mary), Pearson Cotton (University of St. Mary) and Johnston Seymore (University of St. Mary).
The Nation's Best!
Aldine High School nurse Deanna LeBlanc's dedication to her students was lauded by community partner Bonnie Langan who works at the Aldine Branch Library on Airline Drive. Earlier this school year, Bonnie noticed three Aldine High students came into the library after they completed their first semester final exams. One of the young ladies suffered a seizure. While one of her friends stayed with the ill student, the other summoned Deanna. Deanna arrived on the scene, and remained with the student to calm her until paramedics arrived. Deanna provided the paramedics with a data sheet on the student, which was a big assist as they worked to stabilize her. Deanna stayed with the student and made sure she was safely placed in the ambulance before it departed to an area hospital. I'm proud to be associated with dedicated people such as Deanna LeBlanc, who go above the call of duty on a daily basis. Deanna is definitely one of the Nation's Best!
Upcoming Events
Monday, February 16
President's Day Holiday, District Schools and Offices Closed
Tuesday, February 17
Parent Advisory Meeting, M.O. Campbell Educational Center, 7 p.m.
Monday, February 23
Second Steering Committee Meeting, M.O. Campbell Educational Center, Room 104, 6:30 p.m.
Sunday, March 8
Daylight Savings Time Begins
Mon., March 9-Fri., March 13
Spring Break, District Schools and Offices Closed
Monday, March 16
Board Study Session, Board Room, 6:30 p.m.
Tuesday, March 17
Board Meeting, Board Room, 7 p.m.
Thursday, March 19
Community Dialogue, No. 1, M.O. Campbell Educational Center, Room 104, 6:30 p.m.
Friday, March 20
Teacher of the Year Breakfast, Hyatt North Houston Hotel, 7:30 a.m.