March 2015, Edition
Dear Education Partner: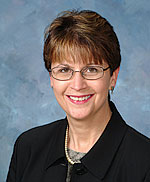 On March 20, we held our annual Teacher of the Year Breakfast, where we honored a group of dedicated men and women who have the vital job of teaching our children. This annual event provides an opportunity for our Trustees, administrators and business partners to show their appreciation to some of the Nation's Best!
The breakfast was held at the Hyatt North Houston Hotel. We honored 75 Aldine teachers who were chosen by their peers as Campus Teachers of the Year for the 2014-15 school year.
I am pleased to announce that Gay Lynn Pierce was named AISD's Elementary/Intermediate Teacher of the Year and Christopher Ceaser was named the district's Secondary Teacher of the Year.
Gay Lynn is a deaf education teacher at de Santiago EC/Pre-K Center. She has 27 years of teaching experience.
She is committed to her job and believes it is her duty to prepare her special students for a bright and promising future.
"It is easy to see that I am shaping the person each of my students will become," she said. "I strive to find ways for the children I encounter to be everything they can be. I will continue that as long as I can."
Christopher is a physical education teacher and coach at Nimitz Ninth Grade School. He has nine years of teaching experience and strives to inspire his students on a daily basis.
"Before I educate my students, I must elevate my students," he said. "Whether in battle, football or other team-strategizing moments, we look to get a better vantage point to obtain victory."
Other district finalists were Tiffany Grant-Scott of Marcella Intermediate School, Mark Faulkner of Odom Elementary School, Jabari Collins of Carver High School and Ronshon Jeffery of Victory Early College High School.
I want to thank the Aldine Education Foundation and our business partners who contributed prizes to our winners, finalists and all Campus Teachers of the Year. AEF presented the two winners with $5,000 each, and presented the four finalists $1,000 each. Every Campus Teacher of the Year received $200. United Airlines provided the two winners with a pair of first-class round trip tickets anywhere in the continental United States. Other wonderful prizes were donated by Aldine ISD Virtual Schools, Dahill, DoubleTree Houston Intercontinental Hotel, East Aldine District, Greenspoint Mall, the Houston Astros, Houston Rockets, InvesTex Credit Union and Magoo's Print Shop.
Congratulations to all of our Campus Teachers of the Year, finalists and winners. I truly appreciate the crucial roles they play on a daily basis in our classrooms.
On March 24-25, Board members and members of the cabinet will be in Austin to visit with our area legislators to discuss issues that are important to education. We will continue to monitor the 84th Legislative session and will provide you with updates throughout the spring.
On March 19, we held our first community meeting to discuss our strategic plan with our stakeholders. The turnout from the community was outstanding as close to 500 parents and students attended. Participants filled out a questionnaire and we will use that feedback to plan for the future as we move along in the process. If you were unable to attend, please go to the Aldine website to find information and a link to the questionnaire and complete it. We need your input.
As we move along in the process of planning for Aldine's future, we will hold our third Steering Committee meeting on Thursday, April 9. Again, thank you to those who serve on the Steering Committee and I look forward to seeing you on April 9.
During the last week of March, our students will begin taking STAAR (State of Texas Assessments of Academic Readiness) tests. Ninth- and 10 th-grade students will take the End-of-Course (EOC) English tests. Fourth- and seventh-grade students will take a two-day writing test, while fifth- and eighth-grade students will be taking reading tests. Additional STAAR tests will be administered in late April and May. Spring is always such a busy time in education.
Thank you for your continued support of Aldine ISD.
Sincerely,
Wanda Bamberg Ed.D.
Superintendent of Schools
District Highlights
• A number of Aldine ISD social studies students qualified for the State History Fair by placing first or second at the regional level. A group of middle school and high school students will compete in 18 categories at the state event on May 2 in Austin.
• America in Recovery recently announced that Aldine ISD would be one of seven area school districts whose students will be in line for scholarship funds from the non-profit organization. The charity hopes to raise a quarter of a million dollars this year to provide college scholarships for Aldine ISD and other Houston area students.
• Aldine ISD and YES Prep have launched the i Aspire program to increase the number of students who apply for and graduate from college. The program will be implemented at Eisenhower High School during the 2015-16 school year.
• Pro Football Hall of Famer Bruce Matthews addressed student-athletes from four Aldine ISD high schools in conjunction with the Pro Football Hall of Fame's series on character on March 17 at Davis High School. The event was broadcast live to all high schools in Aldine and to schools across the country. Extreme Network and Livesize joined the Pro Football Hall of Fame and AISD as partners.
• Three Aldine ISD instructional technology specialists presented at the Texas Computer Education Association Conference in Austin. The three, Josh Hicks, Matt Tomaselli and Jake Elmhorst, shared with attendees how they developed iTechNation for Aldine ISD. The three worked with Dr. Sara Ptomey to improve professional development for AISD educators.
• During the February Board meeting, AISD Trustees approved the calendar for the 2015-16 school year. The first day of instruction will be Monday, Aug. 24. The last day of instruction will be Thursday, June 2.
• Three Aldine ISD boys' varsity basketball teams qualified for the Class 6A playoffs. The Eisenhower Eagles, under the direction of head coach James Johnson, entered as the No. 1 seed from District 18-6A. The Davis Falcons, under the direction of head coach Cornelius Mitchell, entered the playoffs as the district's No. 2 seed and advanced to the third round of the playoffs. They earned victories over Cy-Fair and Cinco-Ranch before falling to Sam Houston High in the third round.
The Nimitz Cougars, under the direction of head coach Nathan Toon, entered the playoffs as the No. 3 seed from District 18-6A.
The Nation's Best!
Cristina Sizemore, a Spanish teacher at MacArthur High School, recently witnessed a random act of kindness performed by three MacArthur students that she wanted to share with the community. The students, Joel Rico, Aurelio Diaz and Alexis Villa, noticed an elderly woman needed help crossing Aldine Mail Route during dismissal time at the school. The three Good Samaritans came to her aid. They noticed the woman was caught in the median on Aldine Mail Route during heavy traffic. The three waited with the woman to make sure she crossed the street safely. When traffic cleared and it was safe to cross the street, the three formed a line and safely escorted the woman across the street to her destination. Cristina said: "My heart was filled with joy as I witnessed the student's care for the elderly woman and did so in a safe manner. I was also touched by their thoughtfulness." I am proud to be associated with students who go above and beyond the call of duty to help a person in need. Joel, Aurelio and Alexis are definitely the Nation's Best!
Upcoming Events
Friday, April 3
Good Friday Holiday, District Schools and Offices Closed
Thursday, April 9
Strategic Plan Steering Committee Meeting, M.O. Campbell Educational Center, 6:30 p.m.
Saturday, April 11
Children's Music Festival, M.O. Campbell Educational Center, 8 a.m.
Monday, April 20
Board Study Session, Board Room, 6:30 p.m.
Tuesday, April 21
Board Meeting, Board Room, 7 p.m.
Thursday, April 23
Strategic Plan Steering Committee Meeting, M.O. Campbell Educational Center, 6:30 p.m.