March, Edition
Dear Education Partner: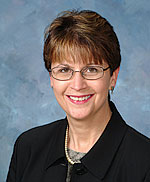 On March 4, we held our annual Teacher of the Year Breakfast, where we honored a group of dedicated men and women. The annual event provides an opportunity for our Trustees, administrators and business partners to show their appreciation to some of the Nation's Best!
This year's event was held at the Hyatt North Houston Hotel. We honored 76 Aldine teachers who were chosen by their peers as Campus Teachers of the Year for the 2015-16 school year.
I am pleased to announce that Laura Hamilton was named the district's Elementary/Intermediate Teacher of the Year and Sarita Salinas was named the district's Secondary Teacher of the Year.
Laura is a language arts teacher at Stehlik Intermediate School. She has 14 years of teaching experience and has spent 11 of those years teaching in Aldine. She believes it is her responsibility as a teacher to prepare her students for the future.
"My goal as a teacher is to create an arena for transformation," she said. "I am not just preparing my students for the next grade or for the STAAR test, but to be employees, spouses, parents and valuable contributors to our community."
Sarita is a dance teacher at Carver High School. She has 27 years of teaching experience and she has spent the last 20 years teaching her love of dance with Aldine ISD students.
She said it is imperative that her students are well rounded in all subject matters to excel as dancers.
"I don't just focus on expressive movement; I emphasize reading, writing, and communicating dance as my students learn each component of this all-encompassing art form. This enables each dancer to integrate core curriculum by analyzing, evaluating and creating works of art that illustrate the highest levels of learning."
Other district finalists were Yvonne Lopez of Jones EC/Pre-K Center, Nickole Burr of Thompson Elementary School, Paula Hodge of Worsham Elementary School, Barbi Binnig of Nimitz High School and Thomasina Gatson of Victory Early College High School.
I want to thank the Aldine Education Foundation (AEF) and our business partners who contributed prizes to our winners, finalists and all Campus Teachers of the Year. AEF presented the two winners with $5,000 each and presented the five finalists $1,500 each. Every Campus Teacher of the Year received $300 from AEF. United Airlines provided the two winners with a pair of first-class round trip tickets anywhere in the continental United States. Other wonderful prizes were donated by InvesTex Credit Union, Greenspoint Mall, the DoubleTree IAH Hotel, the Hyatt Regency North Houston Hotel, Spark Energy, the East Aldine District, the Houston Rockets, the Houston Astros, and Magoo's Print Shop.
Congratulations to all of our Campus Teachers of the Year, finalists and winners. I truly appreciate the crucial roles they play on a daily basis in our classrooms.
Our Central Office has a new home. After more than 60 years at the location on Aldine Westfield Road, our new headquarters will be located in the former Baker Hughes building at 2520 W.W. Thorne Drive. The district purchased the property in the spring of 2015 from the district's 2014-15 general operating budget. This is not part of the fall, 2015 bond referendum.
The new location is much larger than the building on Aldine Westfield. It will provide us more room and allow the district to consolidate a majority of our staff in one location. Additionally, the new location will have more parking for employees and stakeholders and it is efficiently designed with a modern infrastructure. The two-story building will have a cafeteria that will be operated by the district's Child Nutrition Services Department.
The new location will be home to the following departments:
• Superintendent's Office
• Deputy Superintendent's Office
• School Assistant Superintendents' Offices
• Office of Communications
• Finance Department
• Legal Department
• Assistant Superintendent of Administration
• Curriculum and Instruction Department
• Human Resources Department
• Payroll Department
• Benefits Department
• Risk Management Department
• Accounts Payable Department
• Accounting and Business Services Department
• Federal State and Special Programs Department
• Research and Evaluation Department
We will hold a dedication ceremony and open house on Tuesday, April 19 from 5-6 p.m. Tours will take place from 5-6 p.m., followed by the dedication ceremony at 6 p.m. This event is open to the public to tour the new facility. The first Board of Trustees meeting in the new building will be on April 19 at 7 p.m.
We held our final board meeting at the Aldine Westfield location on March 8. Performing arts students from Carver High School presented a program dressed up as the five former superintendents (W.W. Thorne, M.O. Campbell, M.B. "Sonny" Donaldson, Nadine Kujawa and myself). They provided highlights of each superintendent's tenures.
The district will continue to utilize the Aldine Westfield location. Student services and Career and Technical Education will remain at that location. The Tax Office will remain at its current location, 14909 Aldine Westfield Road, across the street in the Resource Center.
All departments moving to the new facility will retain their current phone numbers, which will roll over to the new location.
During the last week of March, our students will begin taking STAAR (State of Texas Assessments of Academic Readiness) tests. Fourth- and seventh-grade students will take a one-day writing test, and fifth and eighth grade students will take reading tests. Ninth- and 10th-grade students will take End of Course (EOC) English tests. Additional STAAR test will be administered in May.
Thank you for your continued support of our school district and I look forward to seeing you when I am out in the community.
Sincerely,
Wanda Bamberg Ed.D.
Superintendent of Schools
District Highlights
• Oscar Cruz, a senior at Victory Early College High School, was one of eight recipients who was honored at the Hispanic Heritage Foundation's 17th Annual National Youth Awards ceremony. Oscar was awarded the ExxonMobil Engineering and Mathematics Award during the ceremony held in Beverly Hills, CA. Oscar plans on attending Texas A&M University and will major in petrochemical engineering.
• Forty-eight Aldine ISD art and English students earned awards at the Regional Scholastic Art & Writing Awards sponsored by the Harris County Department of Education.
• Orange Grove Elementary hosted a Fuel Up to Play 60 event on March 10. The event was sponsored by Dairy Max. During the event, the Dairy Max 2016 Breakfast Games were held. Orange Grove students competed on an outdoor obstacle course. Houston Texans offensive tackle Duane Brown attended the event to motivate students to get active, eat healthy and to have fun. Representatives from the United States Department of Agriculture also attended the event.
• Four Aldine ISD girls' basketball teams earned playoff spots this season. Teams earning playoff spots were Davis High, Nimitz High, MacArthur High and Eisenhower High.
• Four Aldine ISD boys' basketball teams earned playoff spots this season. Davis High won District 18-6A and advanced to the Region III quarterfinals with playoff victories over Langham Creek and Westside. Other AISD teams that qualified for the playoffs were Nimitz High, Aldine High and Eisenhower High.
Upcoming Events
Thursday, March 31
Child Nutrition Center Dedication, 3:30 p.m.
Tuesday, April 5
VEAC Meeting, M.O. Campbell Educational Center, Room 104, 2 p.m.
Saturday, April 16
Lone Star College Foundation Star Gala, The Woodlands Waterway Marriott, 6 p.m.
Monday, April 18
Board Study Session, Board Room, 6:30 p.m.
Tuesday, April 19
Superintendent's Business Advisory Meeting, M.O. Campbell Educational Center, 11:30 a.m.
Tuesday, April 19
New Central Office Dedication, 6 p.m.
Tuesday, April 19
Board Meeting, Board Room, 7 p.m.
Wednesday, April 20
ACC Meeting, M.O. Campbell Educational Center, Teaching Theater, 9:30 a.m.
Thursday, April 21
TAFE Banquet, M.O. Campbell Educational Center Arena, 6:30 p.m.
Thursday, April 27
ACC Meeting​, Child Nutrition Center, 9:30 a.m.