November, Edition
Dear Education Partner: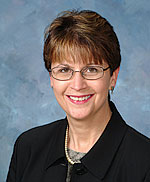 During the November 15 Board meeting, Aldine ISD Trustee Rick Ogden announced his resignation from the Aldine ISD Board of Education. Mr. Ogden and his wife Charlotte are moving out of the district.
I want to thank Mr. Ogden for his dedicated service to our district. He has been a valuable member of our team and we will miss his leadership and guidance. I wish him and Charlotte the best as they embark on this new chapter in their lives. Mr. Ogden is not only well respected in Aldine and by his fellow board members, but across the state for his service to the Texas Association of School Boards (TASB).
Mr. Ogden, who currently serves as vice-president, has served on the Board for 26 years. He was appointed in August 1990 to fill the unexpired term of Walter Stovall. He was elected to that position in January 1991. Prior to becoming a trustee, he served on the district's Project 2000 Committee.
Mr. Ogden has held all four Board offices and chaired numerous committees. As a 1992 member of Leadership Texas Association of School Boards (TASB), Mr. Ogden earned the title Master Trustee. In addition to serving on the school board, Mr. Ogden has served as a director of TASB and was that group's president in 2002-03. Mr. Ogden is the longest-serving member of the Board of Trustees.
Mr. Ogden is a native Houstonian, a 33-year resident of Aldine and has four children who are all graduates of Aldine High School.
Board President Rose Avalos spoke on behalf of the Board and thanked Mr. Ogden for his service over the last 26 years.
"Rick Ogden's leadership initiated the Aldine ISD school boards' true involvement at the state level," Ms. Avalos said. "His experience has been invaluable to so many of us. His commitment and loyalty as an Aldine school board Trustee has enhanced our advocacy efforts for all students."
Mr. Ogden's resignation means the Board will need to find a replacement for his position. The Board's Selection Committee, consisting of Paul Shanklin, Dr. Viola M. Garcia and Steve Mead, will begin the process of screening applicants. It is the responsibility of the committee to interview potential Board members and make a recommendation to the full Board. The committee will generate a list from the names of individuals previously provided by the community, Board members, the superintendent and others during the last vacancy in 2014. The committee will solicit recommendations for names of additional candidates. Copies of the application to be considered for appointment to the Aldine ISD Board of Trustees may be obtained in person at the office of Assistant Superintendent of Community and Governmental Relations Abel Garza, 2520 W.W. Thorne Blvd., Houston, TX, 77073, Monday through Friday from 8 a.m. until 4:30 p.m. You may also download the application here . The information is also posted on the district website. Applicants must provide a resume, including their history of advocacy and community service. Completed applications must be delivered to Mr. Garza's office by 4 p.m. on Dec. 5, 2016.
Mr. Ogden will remain a participating member of the Board as a "holdover" until his replacement is found. Mr. Ogden's term is up in November 2017. The person chosen for his position will run in the next election.
On November 17, we held a community meeting at MacArthur High School to discuss traffic issues in response to the tragic death of MacArthur student Jose Torres in October.
At the meeting, we discussed the steps Aldine ISD and Precinct 2 have taken to address traffic concerns in the area. Both entities conducted pedestrian and traffic assessments of the area and met on November 8 to discuss the results of the assessment, initial actions and collaborations.
Thus far, Precinct 2 has taken the following action:
•Replaced and improved technology on existing beacons
•Extended School Zone hours: 6 a.m. until 8:50 a.m. and 2:15 p.m. until 4:30 p.m.
•Installed instructional plaques at crosswalks
•Installed "No Parking" and "No Pedestrian Crossing" signs along Aldine Mail Route
•Installed brighter and more reflective signs
They also conducted an assessment of all existing crosswalks in the MacArthur area. The assessment included:
•Repainting and re-striping of crosswalks
•Conducted an analysis of pedestrian traffic
•Conducted an evaluation of crosswalk locations; with the intention of routing students to protective crosswalks
•Improve sidewalks with ADA (American Disability Act) ramps and extensions
Aldine ISD will be taking the following actions:
•Trimming large trees at entrances and exits at MacArthur High School
•Evaluating traffic flow at MacArthur High and MacArthur Ninth Grade School to see if staff entry should be changed
•Providing additional officers during arrival and dismissal times
•Enforcing one directional exit from MacArthur High School
•Adding lighting
•Adding beacon checks to campus safety checklist
•Enhancing communication with students, parents and staff about pedestrian and car safety in school zones
•Conducting safety reviews at all campuses
On November 10, we held a stakeholders meeting with State Rep. Armando Walle, representatives from METRO, the Harris County Sheriff's Department, CenterPoint Energy, the Aldine Police Department and the East Aldine Management District.
METRO committed to re-evaluating bus stops on Aldine Mail Route, and CenterPoint committed to replacing streetlight bulbs to enhance lighting on Aldine Mail Route.
We have been proactive in our response because we want to do everything possible to prevent another tragedy like the one that occurred in October. We will keep you and the community updated as projects are completed along Aldine Mail Route.
On October 28, we held our third annual AEF (Aldine Education Foundation) Golf Tournament at Oakhurst Golf Club. AEF raised more than $55,000, shattering the previous high of $42,000 raised at the 2015 tournament. Former Aldine ISD Superintendent M.B. "Sonny" Donaldson served as the tournament's honorary chairman. The tournament attracted 115 golfers and 29 teams. Money raised from the event will fund AEF scholarships for AISD seniors and provide classroom grants for AISD teachers.
The AEF "Prize Posse" surprised 18 teachers across the district on November 17 when it awarded $54,000 in innovative teacher grants.
Students and staff once again stepped up to the plate and came to the aid of the Aldine community during Make A Difference Day on October 22. Schools throughout the district donated canned good and non-perishable items to Mission Greenspoint and the Aldine Family Hope Center. Students at Eisenhower High School and Nimitz High School helped build a KaBOOM playground at Conley Elementary School. Each intermediate school participated in the Lion's Club Eyeglasses Campaign and collected more than 400 pair of eyeglasses. The lenses will be refurbished and fitted with new frames to benefit a child who needs eyeglasses. The Online Learning Virtual School staff spent quality time with residents of Windsor Houston. They played Bingo, shared stories and mini-treats with the residents. Cypresswood Elementary collected $1,000 for "Project Mammogram," benefitting the Memorial Hermann Mammogram program. Calvert Elementary students collected stuffed animals and wrote notes of encouragement for patients at Texas Children's Hospital. I am proud of the way our students and staff respond each year during Make A Difference Day and am proud to be associated with such a giving and generous group of adults and children.
Our schools and offices will be closed Nov. 21-25 and will re-open on Monday, November 28. I wish all of you a safe and happy Thanksgiving. We all have much to be thankful for. I hope you will take time to enjoy your family and friends during the holiday.
And again, thank you for your continued support of our school district.
Sincerely,
Wanda Bamberg Ed.D.
Superintendent of Schools
District Highlights
• Carrie Underwood and DICKS's Sporting Goods Foundation awarded a $100,000 grant to Aldine ISD. The funds will be used to make purchases for girls' middle school and high school athletics. A number of middle school and high school student-athletes had the chance to meet Underwood at the grant presentation during the grand opening of the DICK'S Sporting Goods new store in Baybrook Mall.
• Five Aldine ISD art students had their artwork exhibited during the Texas Association of School Administrators (TASA) and Texas Association of School Boards' (TASB) Convention held recently at the George R. Brown Convention Center. Jennifer Castillo of Carver High School, Juana Garcia of Carver High School, Yordy Guevcora of Davis High School, Maria Zavala of Nimitz High School and Paola Zuniga of Davis High School had pieces exhibited for convention attendees.
• Conley Elementary School is home to a brand new playground, thanks to a grant from the KaBoom Foundation. More than 200 volunteers gathered on a recent Saturday to build the playground and provide children with the power of play. The value of the project was approximately $85,000.
• On Tuesday, Nov. 22, the M.O. Campbell Center will host the No. 1 women's basketball team in the country when the Notre Dame Lady Irish take on the University of Louisiana Lafayette. The game will begin at 7 p.m. and tickets will be available at the gate.
• Three Aldine ISD varsity volleyball teams qualified for the Class 6A playoffs. Davis High, MacArthur High and Nimitz High all earned playoff spots.
• The Davis High Falcons earned their third straight trip to the Class 6A football playoffs by finishing fourth in District 16-6A.
Upcoming Events
Monday, Nov. 21-Friday, Nov. 25
Thanksgiving Break, All District Schools and Offices Closed
Tuesday, Nov. 22
Notre Dame Women Versus Louisiana Lafayette, M.O. Campbell Educational Center, 7 p.m.
Wednesday, Dec. 7
Be An Angel Luncheon, M.O. Campbell Educational Center, 9 a.m.
Monday, Dec. 12
Nadine Kujawa Senior Citizen Gala, M.O. Campbell Educational Center, 10 a.m.
Monday, Dec. 12
Board Study Session, Board Room, 6:30 p.m.
Tuesday, Dec. 13
VEAC Meeting, Child Nutrition Center, Room 101, 2 p.m.
Tuesday, Dec. 13
Board Meeting, Board Room, 7 p.m.
Wednesday, Dec. 14
Legislative Breakfast, Greenspoint Elementary School, 8:30 a.m.
Wednesday, Dec. 14
Honor Choir Concert, M.O. Campbell Educational Center, 7 p.m.
Thursday, Dec. 15
Lone Star College, Early College High School Groundbreaking Ceremony, 10 a.m.
Monday, Dec. 19-Monday, Jan 2
Mid-Winter Break, District Schools and Offices Closed
Tuesday, Jan. 3
Classes Resume