November 2013, Edition
Dear Education Partner: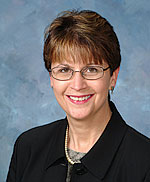 We welcomed a new member to the Aldine ISD Board of Education on Nov. 19 when Patricia Ann Bourgeois took the oath of office to fill the unexpired Position 1 seat formerly held by Marine Jones. Ms. Bourgeois was elected to the Position 1 seat in a special election on Nov. 5 after defeating Jose Palacios Jr., who had been appointed to temporarily fill Mrs. Jones' seat.
Board President Merlin Griggs welcomed Ms. Bourgeois to the team and thanked Mr. Palacios for his service and support of the Board and students in Aldine ISD.
Incumbents Rose Avalos, Rick Ogden and Steve Mead also took the oath of office after they were returned to their respective seats on the Board. All three were unopposed in the Nov. 5 election. Ms. Avalos holds the Position 3 seat. Mr. Ogden holds the Position 4 seat and Mr. Mead holds the Position 5 seat. The three will serve four-year terms.
Our administrative team has held numerous meetings to address student growth on the north side of the district (Nimitz area). After viewing data, we determined the fastest growth in that area is at the elementary level. The three elementary schools in the area, Dunn, Jones and Magrill, each have approximately 1,000 students and all are growing. Several neighborhoods in the FM 1960/Treaschwig area are expected to build 1,300 homes over the next two years and we want to be prepared for the expected growth.
During the Nov. 19 Board meeting, Trustees unanimously approved a plan to construct a new elementary school in the northern part of the district. The school will be located at the district's Cypresswood Pointe location and is scheduled to open at the start of the 2015-16 school year. The project will cost approximately $15 million and will be funded by the bond referendum AISD voters approved in May of 2007.
The Aldine Education Foundation (AEF) received $30,000 in donations from Lone Star College-North Harris and Aldine ISD. Lone Star College-North Harris, represented by Dr. Bennie Lambert, made a $10,000 donation on behalf of the college to AEF that will provide scholarships for AISD students to attend Lone Star College. The district made a $10,000 donation to AEF and a $10,000 donation to specifically support scholarships to Lone Star College. Board President Merlin Griggs, who also serves on the AEF Board, made the presentation on its behalf to Judy Hoya, AEF director.
I appreciate the college's continued generosity and I am grateful that Aldine is able to contribute to a worthwhile organization that benefits AISD students and teachers.
We also received good news concerning the district's 2012-13 audit, conducted by Whitley Penn. The firm found no exceptions in the audit and it will now be forwarded to the Texas Education Agency.
We are all looking forward to the Thanksgiving break. Our offices will be closed Nov. 25-29 and will re-open on Monday, Dec. 2. I wish all of you a happy and safe Thanksgiving. Even in these challenging times, we all have much to be thankful for. I hope you will take time to enjoy your family and friends during the holiday.
Sincerely,
Wanda Bamberg Ed.D.
Superintendent of Schools
District Highlights
• Carver High School's Amber Nicole Scott advanced to the Live Rounds of NBC's "The Voice." Amber, who went by Amber Nicole on the show, was eliminated in the Knock-Out Round, but received a second chance to compete in the Live Rounds when coach CeeLo Green stole her away from Blake Shelton and placed Amber on his team. She was ultimately eliminated from the competition in the Live Rounds, but the experience she received during her time in Los Angeles will be of great benefit to her in the future.
• Six Aldine ISD campuses finished among the top 20 schools in the world in the Scholastic Book Fairs Summer Reading Challenge. The six were Hill Intermediate, Rayford Road Intermediate, Thompson Elementary, Odom Elementary, Raymond Academy and Worsham Elementary.
• Three AISD educators were honored by the Crisis Prevention Institute (CPI) by being named to CPI's Instructor Hall of Merit. The three honorees were Dr. Marc Evans, Craig Dohse and Michael "Mike" Bell.
• Drew Academy recently celebrated its 50th anniversary. The community event offered a variety of activities and was a wonderful opportunity for former students to catch up and reminisce about their days as students at Drew.
• A number of AISD art students have their work on display at Houston Northwest Medical Center's pediatric wing. The students who have their artwork on display are Evelyn Fernandez, Veronica Guerra, Stacy Ly, Tang Phung, Joti Rai and Andrea Torrez of Davis High School and Yanely Cisneros, Tiffany Garcia, Miguel Alvarez and Vernitra Remo of Nimitz High School.
• AISD's Thorne Stadium recently played host to the K-9 4 Cops Olympics. The event featured police dogs and their handlers from across Texas who competed in a number of events. K-9 4 Cops supplies free dogs to law enforcement agencies and has donated two dogs, Smafu and Ace, to the Aldine Police Department.
• The Eisenhower High and Nimitz High football teams both qualified for the playoffs. Eisenhower, under the direction of head coach Kerry Bamburg, finished third in District 18-5A, while Nimitz, under the direction of head coach Robert Toomer, placed fourth in 18-5A.
The Nation's Best!
Once again, Aldine ISD students and staff came through in outstanding fashion on Make A Difference Day. Schools throughout the district completed a number of charitable projects. Some schools collected canned goods, diapers, and other badly needed items for food pantries at churches in the Aldine community. Some schools assisted senior citizen centers by donating various items, while others donated to homeless shelters. One school collected change to donate to the Gulf Coast Chapter of the Leukemia & Lymphoma Society's School and Youth Program. The Aldine ISD finance department collected socks and footies to "Sock it to Seniors" at Pilgrim Place II. Other employees at the Central Office donated canned goods, diapers and paper products to Mission Greenspoint. Each year, our students and employees go above and beyond the call of duty to help those in need. The spirit of giving is strong in Aldine ISD. I'm proud to be associated with a school district that does so much for others. Our students and staff are definitely the Nation's Best!
Upcoming Events
Monday, Nov. 25-Friday, Nov. 29
District Schools and Offices Closed for Thanksgiving Break
Saturday, Dec. 7
Middle School District Science Fair, M.O. Campbell Educational Center, 8 a.m.
Wednesday, Dec. 11
Nadine Kujawa Holiday Gala, M.O. Campbell Educational Center, 10 a.m.
Monday, Dec. 16
Board Study Session, Board Room, 6:30 p.m.
Tuesday, Dec. 17
Board Meeting, Board Room, 7 p.m.
Monday, Dec. 23-Friday, Jan. 3
Mid-Winter Break, District Schools and Offices Closed
Monday, Jan. 6
District Re-Opens
Monday, Jan. 13
Board Study Session, Board Room, 6:30 p.m.
Tuesday, Jan. 14
Board Meeting, Board Room, 7 p.m.
Thursday, Jan. 16
Leadership Aldine, Board Room, 8 a.m.
Monday, Jan. 20
Martin Luther King Holiday, District Schools and Offices Closed
Friday, Jan. 24
State of the District Breakfast, Sheraton North Houston Hotel, 7:30 a.m.