By JD Herman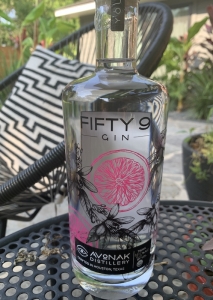 A stone's throw from the East Sam Houston Tollway is the only active gin distillery in Houston. Avonak Distillery broke ground in the East Aldine Management District in 2018. Focusing on young spirits and organic grain to glass distilling, they have come to market with a vodka and two unique gin offerings.
Gin is rich in history — some of it celebratory, some of it salubrious, some of it scandalous. Dutch origins in the 1600's gave birth to a drink called "genevere" that was purported to have medicinal properties, curing everything from bronchitis to rheumatism. Juniper berries were a key ingredient and as genever traveled westward to England it lost a few syllables and became the most popular drink in London town (mostly because it was the cheapest). During this time taxes and loose distillery laws made gin cheap and abundant. Gin was so cheap, in fact, that to flavor the grain alcohol people would mix it with sawdust, or turpentine (turpentine?!?) leading to a small health crisis in England that hurt the reputation of the spirit for decades. In the early 1800's, as more regulation and a few bigger distillers cropped up, gin started being refined into the spirit we are more familiar with today.
Fundamentally, gin is a vodka flavored with proprietary botanicals unique to each distiller. The most common type of gin is referred to as "London Dry" and has a prominent juniper flavor note. Avonak makes a great dry gin called "Eye 10". Gins flavored without juniper, or without a juniper forward note, have many different names, but "new gin" or "international gin' gets thrown around often. These gins will use other botanicals besides juniper for their top note and Avonak shines in this regard with their exquisite "Fifty 9" gin.
First, know that this Houston distillery takes great pride in working with independent farms to source organic grains and wheat to be the foundation of their spirits. Everything is then made in house. Their dry "Eye 10" gin has a perfect balance of juniper and refined Asian spice notes. Good in a sweet cocktail or savory craft martini, this gin will become a favorite among bartenders and gin aficionados.
Avanok's "new gin" offering is their "Fifty 9" gin. Instead of juniper you will find some citrus notes as well as rose and elderflower. Add a splash of lemonade and prosecco over crushed ice and you have the perfect summer cocktail.
Their meticulous distilling process produces a high quality pure vodka that — while excellent on its own — also serves as the foundation of their gins. Enjoy Avanok Vodka straight with a twist or mixed in an afternoon cocktail.
Only a few years old, Avanok is not limited to just young spirits. The distillery has bourbons aging as we speak and soon those oak barrels will be producing some great whiskey right here in the East Aldine Management District. You can find Avonak gins at the midtown Specs and other fine independent liquor stores throughout the metro area of Houston. Tours of the distillery are available, according to the website. Call ahead for details, as Covid-19 precautions may be in place.
Avaonak Distillery
5750 N Sam Houston Pkwy E STE 509,
Houston, TX 77032
832.930.3677