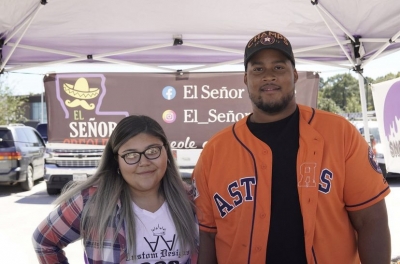 Nayeli Aguas' family is from Mexico. Patrick Alexander's family is from Louisiana. Together they are a hard-working East Aldine family with two children, strong family ties and strong cultural traditions.
So, maybe it's not a surprise that their popular catering business is an unusual fusion of Hispanic and Creole cuisine, mixing some of the Houston area's strongest favorite flavors.
The niche business is called El Señor Creole, and it features creations such as boudin tamales. The seafood choices include fish tacos and spicy boiled crawfish — of course! (For the uninitiated, Louisiana boudin is Cajun sausage).
Nayeli and Patrick are proud graduates of MacArthur High School, where Nayeli was in the Brigade Belles and Patrick played football for the Generals.
Like many enterprises in neighborhoods such as East Aldine, El Señor Creole was born out of economic necessity and has flourished by blending cultures with creativity in the kitchen.
About four years ago, when Patrick was laid off from a truck-driving job, Nayeli was balancing her job with caring for a baby. She "suggested" that he might help a little around the house.
"I said, 'Maybe you could cook dinner, or something,' " she recalled.
Patrick, who had never learned to cook, started reading cookbooks and experimenting in the kitchen. From watching his father using the deep fryer for turkeys on holidays, or hosting crawfish boils, he only knew a little bit about Cajun and Creole spices.
"I had never even seen him boil and egg," Ayeli said.
Suddenly, she was surprised to find home-cooked meals from recipes Patrick had found in cookbooks. Then, he began to experiment further.
"I began tweaking the recipes," he said. "Because of my Louisiana background, I started adding in some Creole spices."
"Now, when I am in the kitchen, I'm just happy," Patrick added. "I can't really explain how I feel when I am cooking, it's just exciting for me."
Creole spices are pepper-based, but they tend to be a bit sweeter than the blazing hot peppers used in Hispanic cuisine, like jalapeños or habaneros.
To be sure, there were a few early disasters. Perfecting the masa for tamales may be a skill linked genetically to Hispanic people. But, Ayeli said, her relatives were helpful and encouraged Patrick to keep trying.
"My grandmother, who had never shared her recipe for menudo with me, taught him how to make it. In my kitchen," Ayeli said.
Though Patrick is back at work driving a truck full-time, the couple is still offering their special dishes through their catering business. They plan to continue participating in the popular "Pop Up Markets" at Studio 59 in East Aldine.
At Christmas, the couple made specialty "boudin tamales" featuring the meat-and-rice based sausage. They also had a successful Thanksgiving season with their fried turkeys.
"I really had my doubts about that idea. But they were very, very popular," Ayeli said.
The couple sells deep-fried "boudin balls" at the Studio 59 Market. The markets are held on Saturdays at 12411A Eastex Freeway.
All the food preparation is done in the family's kitchen and the finished products are carefully placed in ice chests before being served at the market. The young couple also sold out of fish tacos at one of last summer's jazz concerts at the East Aldine Town Center amphitheater.
Patrick is already making plans for a pre-Mardi Gras "crawfish boil" in February. The date will depend on "the Louisiana crawfish farmer," who is his regular supplier, he said.
Now that they have two young sons, ages 4 and 2, the couple is planning to own and operate a food truck and turn Señor Creole into a full-time business. Someday, they hope to open a restaurant.
Ayeli said she is also a stay-at-home mom, although she occasionally helps out at a friend's daycare center.
"We just feel very blessed to be in East Aldine," Patrick said. "This community has really supported us. When my customers make suggestions, I always listen to their ideas. The thing about East Aldine is that everybody helps everybody else."
Phone: 346-606-9303
On Facebook: El Señor Creole
On Instagram: El_Señor_Creole
— by Anne Marie Kilday