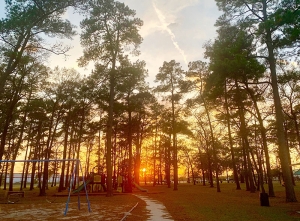 Nestled amongst tall pines and a few oaks on the banks of Greens Bayou about a half mile north of Lauder Road, W.E. "Bill" Crowley Park offers pleasure-seekers a peaceful retreat in which to relax, picnic, or burn calories, either alone on the exercise trails or playing ball with your friends.
Consisting of 30 acres of mixed coniferous / deciduous woodland, ball fields and open land, Crowley Park is operated by Harris County, Precinct 2. Fifty picnic tables, some with grills, are scattered about in the squirrel-beloved pines, making the outdoor dining area able to accommodate al fresco feasts both large and small. Those woods also shelter the tarped playground equipment and portions of the trail, which was completely smoothed out and resurfaced in 2017, making for safer strolls and jogs for seniors (who love this park), toddlers and everyone in between. And whether it's your delts, abs, quads, glutes, trabs, pecs you need to torture into shape, you can find an apparatus designed to do just that in the park's free exercise area, making this a great alternative when you need to exercise but are tired of the gym.
The park offers brick-and-mortar restroom facilities (not just portable toilets) near the baseball fields. Like the playground equipment, the basketball court is sheltered. There is also a tennis court on the grounds.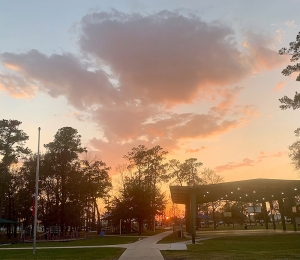 The park opened in 1977 and takes its name from William E. "Bill" Crowley, general superintendent of Harris County's roads and bridges for many years. It was Crowley's friend and deer hunting buddy, legendary Harris County commissioner "Squatty" Lyons, who named the park in Crowley's honor. In 2013, the park hosted East Aldine's Fall Fest and it is the frequent site of community clean-ups — it is East Aldine's most popular park, which is a double-edged sword. The more people like it, the more mess, but because people love it so much, they are willing to volunteer both sweat and time to clean it up.
Crowley Park's half-mile distance from Lauder Road, and thus its insulation from street noise, brings about an enormous sense of tranquility and peace, the only racket coming from the occasional snippet of birdsong and the frequent laughter of carefree children. Which can amount to plenty of racket on weekends and during holidays – but in those cases, you and yours will likely be joining in.
Overall, it reminds this devotee of the recreation area at a state park way up in the Piney Woods, but luckily for area residents, it's right there on the edge of East Aldine.